4BBB RESULTS

4 BBB EDEN GOLF CLUB 10th SEPTEMBER 2021
1. Joan Craghill & Marion Donnelly Keswick 46
2. Sarah Pang & Sue Ling Eden 45 pts
3. Doreen Mattinson & Gill Alcock 42 pts
Friday 10th September 26 pairs arrived at Eden Golf Club on a dry warm day. The course was in excellent condition, with 2 of the ponds dried up in the dry conditions this summer!
The event was very successful and many thanks to the Ladies Section especially Lady Captain Liz Duthie for looking after the welcome desk and the raffle , Lorraine Western for starting everyone off and Ann Reid for setting up the competition, managing the changes and processing the scores. Everything went very smoothly and the welcome was really appreciated by everyone. Thanks to the bar and catering staff.
My thanks to Ruth who did an excellent job and worked so hard to get ladies to enter the competition.
Congratulations to all the prize winners and a big thank you to everyone who took part. Lady Captain Margaret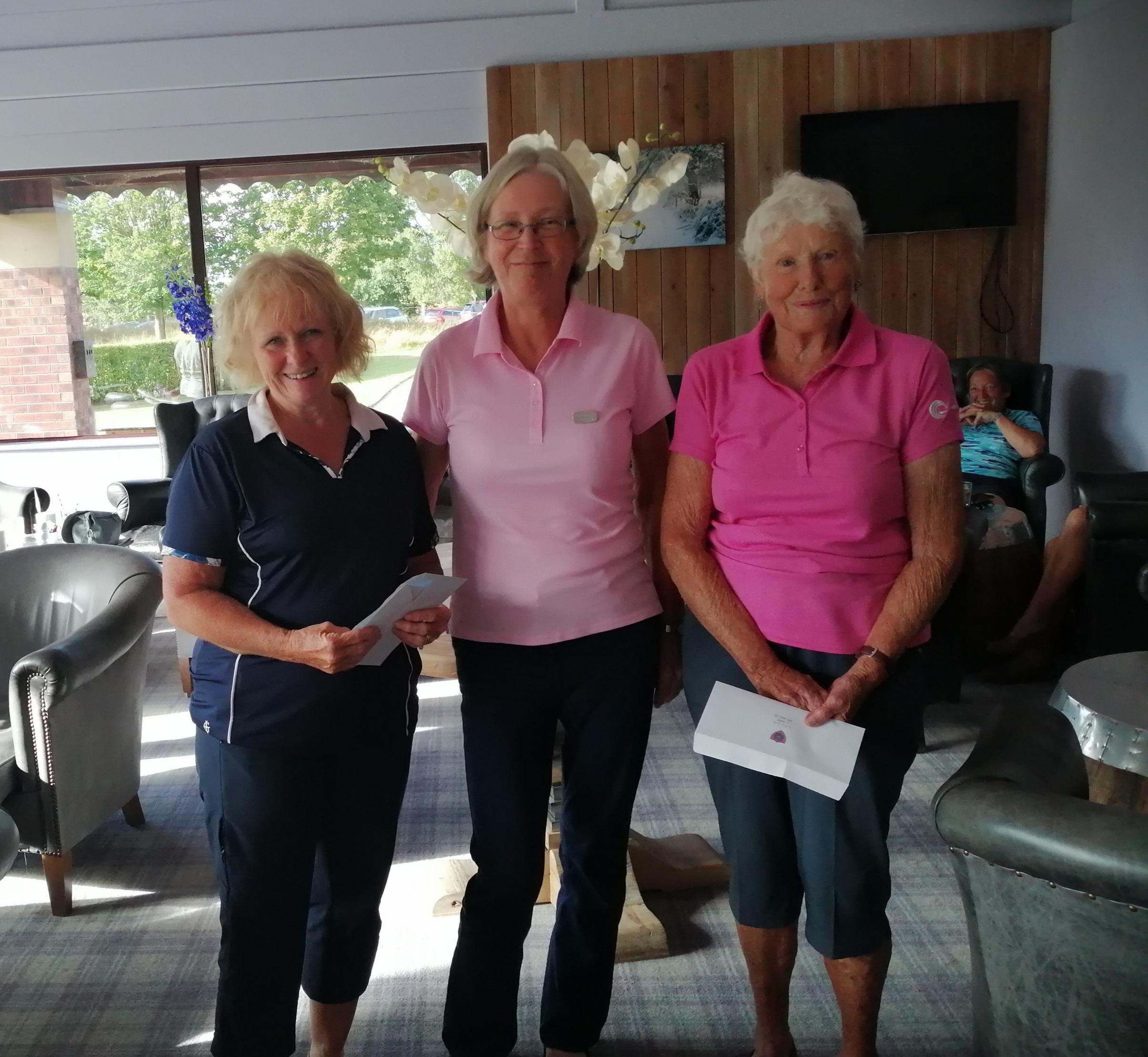 1st Joan Craghill & Marion Donnelly Keswick
3rd Doreen Mattinson & Gill Alcock
Please click on DRAW for 4BBB
2021

CUMBRIA VETERAN LADIES' GOLF ASSOCIATION
4BBB STABLEFORD AT EDEN GOLF CLUB Friday 10th SEPTEMBER 2021
Playing Handicaps to be calculated as 85% of Course Handicap
4 Ball Better Ball (4bbb) Stableford Scoring
REGULATIONS
WHS and R & A Rules to apply
Active handicaps only - Handicaps will be verified
The Committee's Decision shall be final in any dispute
No entry fees will be returned after the draw has been made
Regrettably no refunds can be made once the draw has been made
Handicap index maximum 54
PLEASE NOTE INDIVIDUAL ENTRIES
Entry fee £22 – cheques payable to C.V.L.G.A – No later than Friday 20th August 2021 to:
ALTERNATIVELY: Competition fees can be paid by Bank Transfer to Cumbria Veteran Ladies Golf Association Acct No. 52340975 sort code 16 52 21, please clearly reference payments to allow easy identification ie: ENTRANTS NAME – 4BBB etc. and email ruthcoleby@hotmail.com to confirm payment
Mrs Ruth Coleby (Competition Secretary)
10 Barco Avenue
Penrith
Cumbria
CA11 8LU
Telephone: 01768 606984
Mobile: 07832960077
ruthcoleby@hotmail.com