NEWS & AGM photographs

All Cumbria Ladies Vets Fees are now due £6 per person and shoud be paid to your club secretary /Captain, membership
of the Vets section is required prior to entering any Vet competitions.(Cumbria or Northern Vets society comps)
Cumbria host the Silver Championship, Bronze Championship, Team event, 4BBB and Mixed competition plus 2022 see Cumbria
hosting the Northern Championship at Penrith all information can be found in Competitions & Fixtures on this website.
The Committee appreciate your support we could not run the Cumbria Vets section without your help. Please contact any committee
member for more information (contacts in officials)
Lady Vets Committee Christmas Dinner at Furness Golf Club December 2021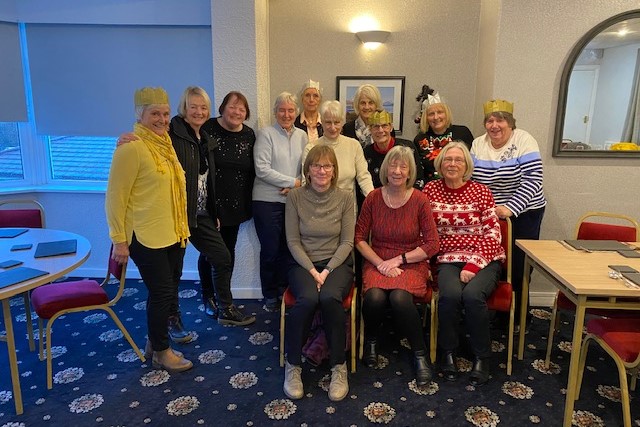 Committee members from 2020 - 22
AGM 2021 Presentation Photographs
Captain Alyson presented Past Captain Margaret with a boquet of flowers and a framed photograph of the Richardson trophy team.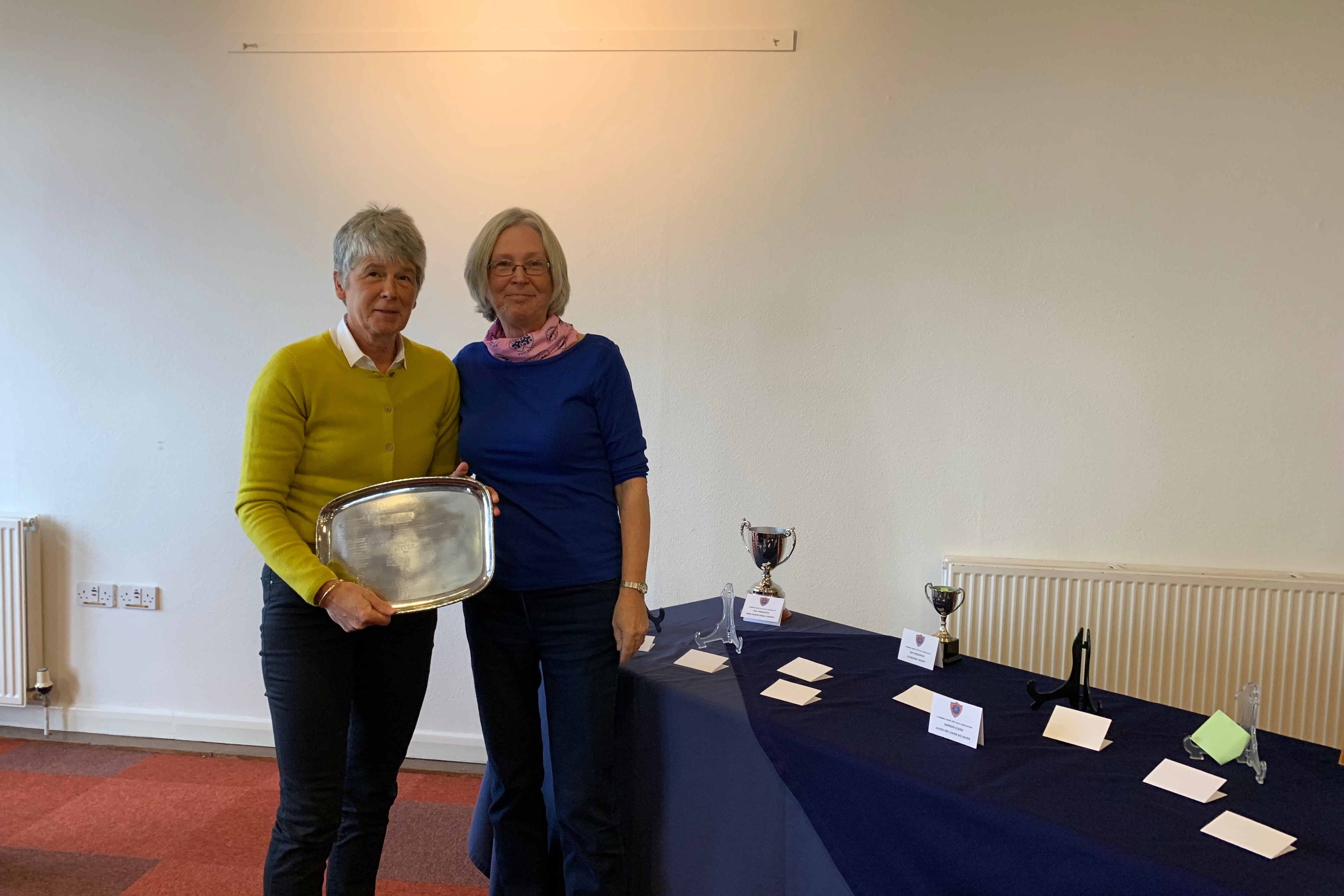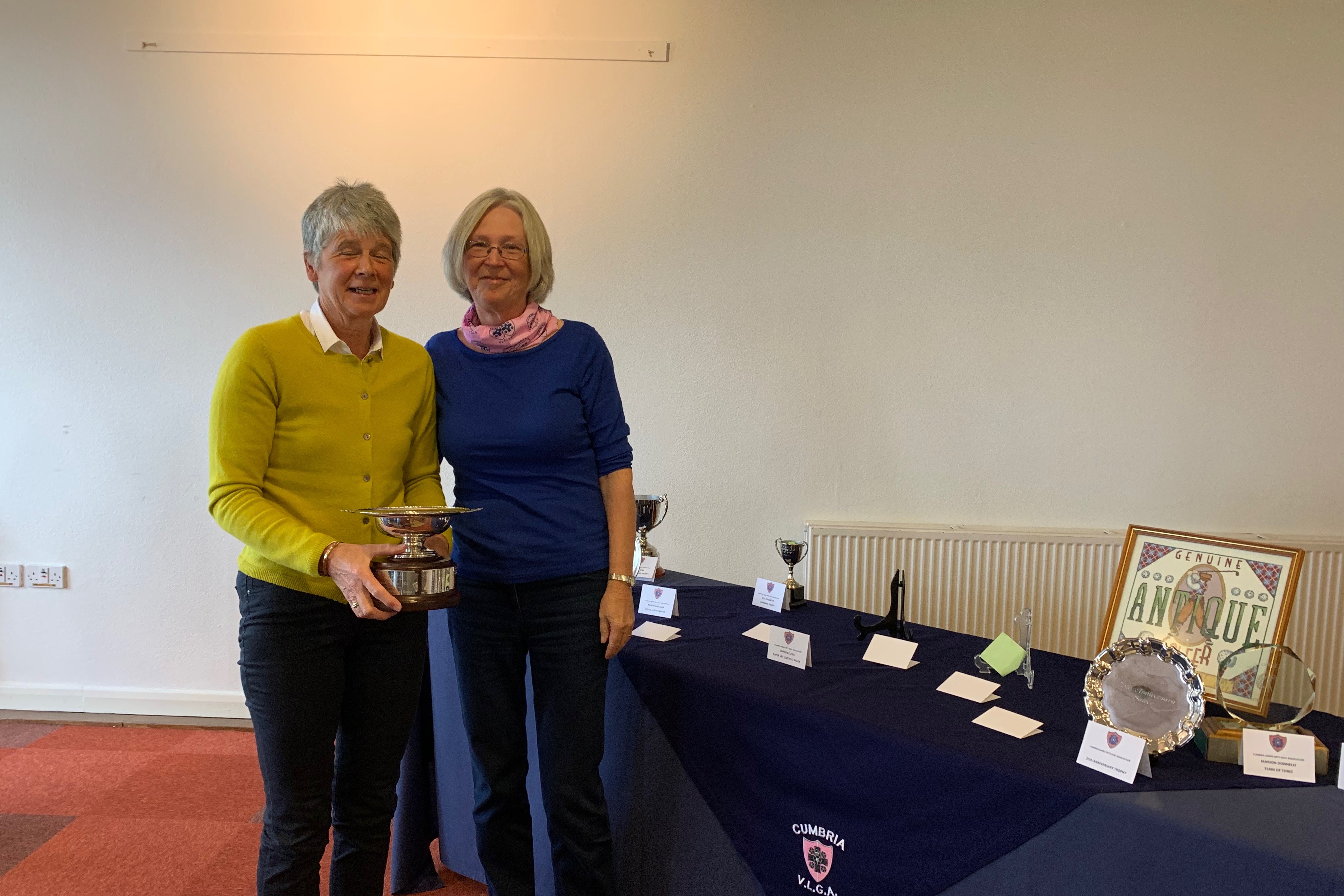 Kathrny Bulman
Receiving the Sylvia Barron Salver and the Louise Mayne Trophy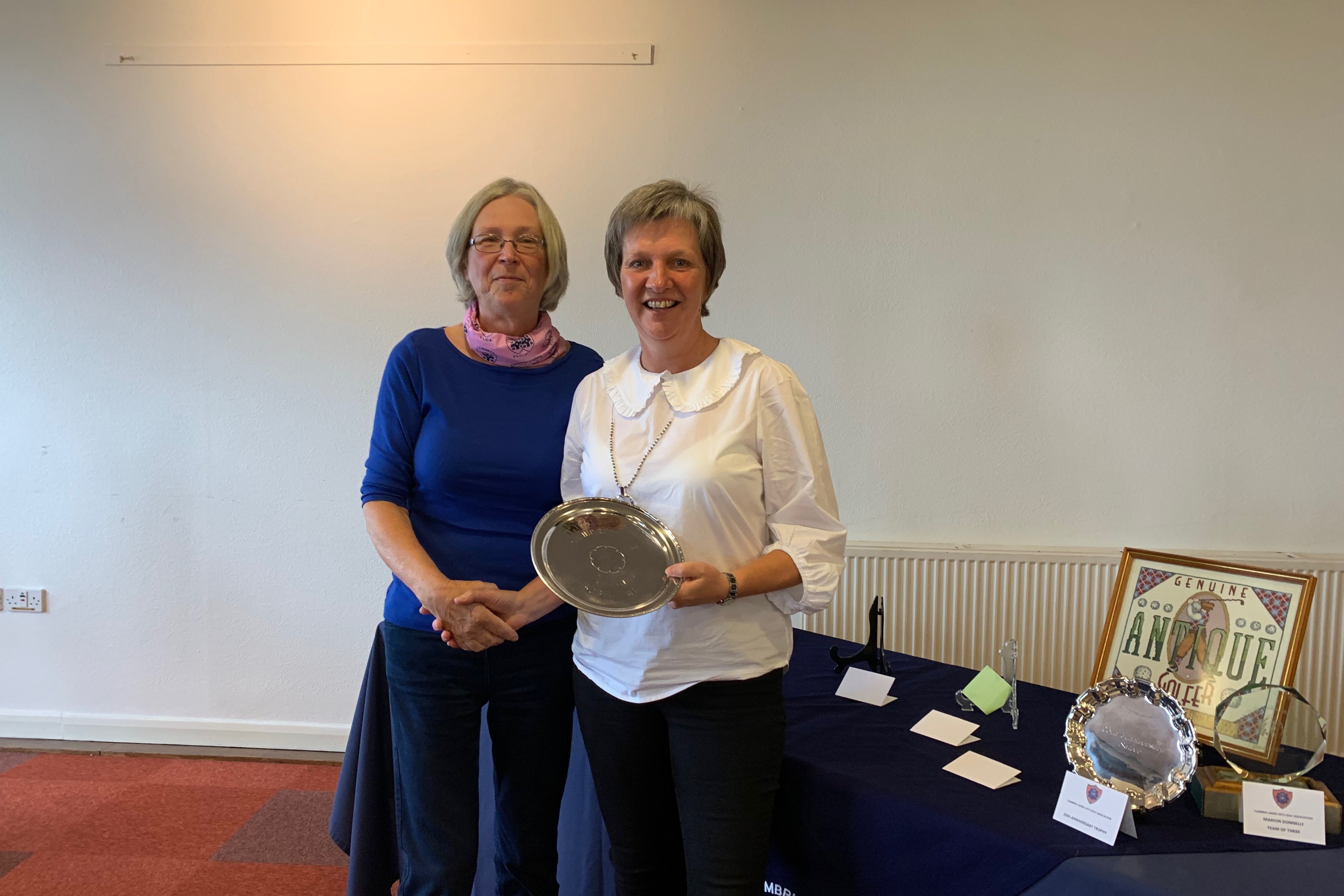 Brenda Ewbank
Receiving the Louise Mayne Trophy from President Helena and the Isobel Williams Trophy from Isobel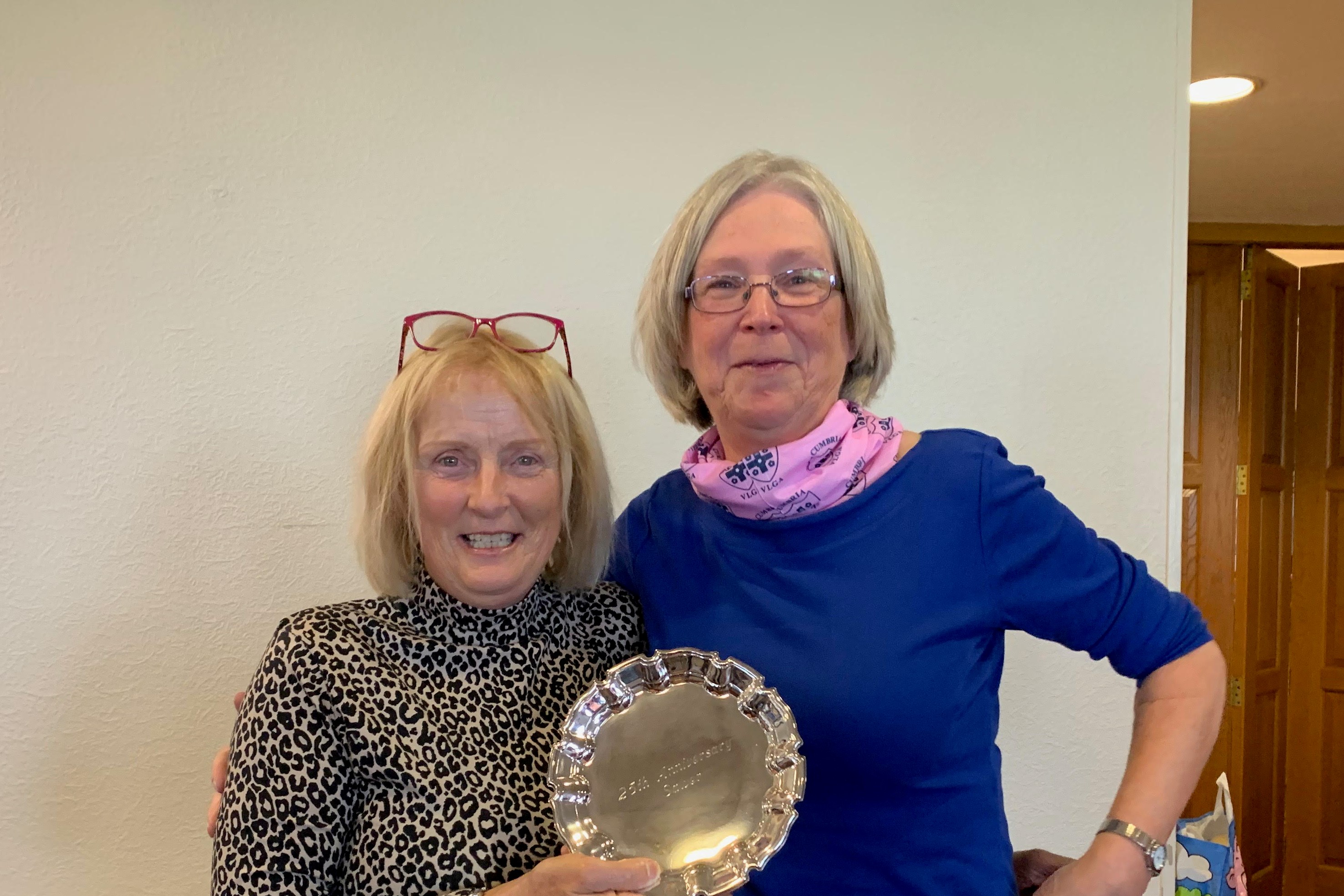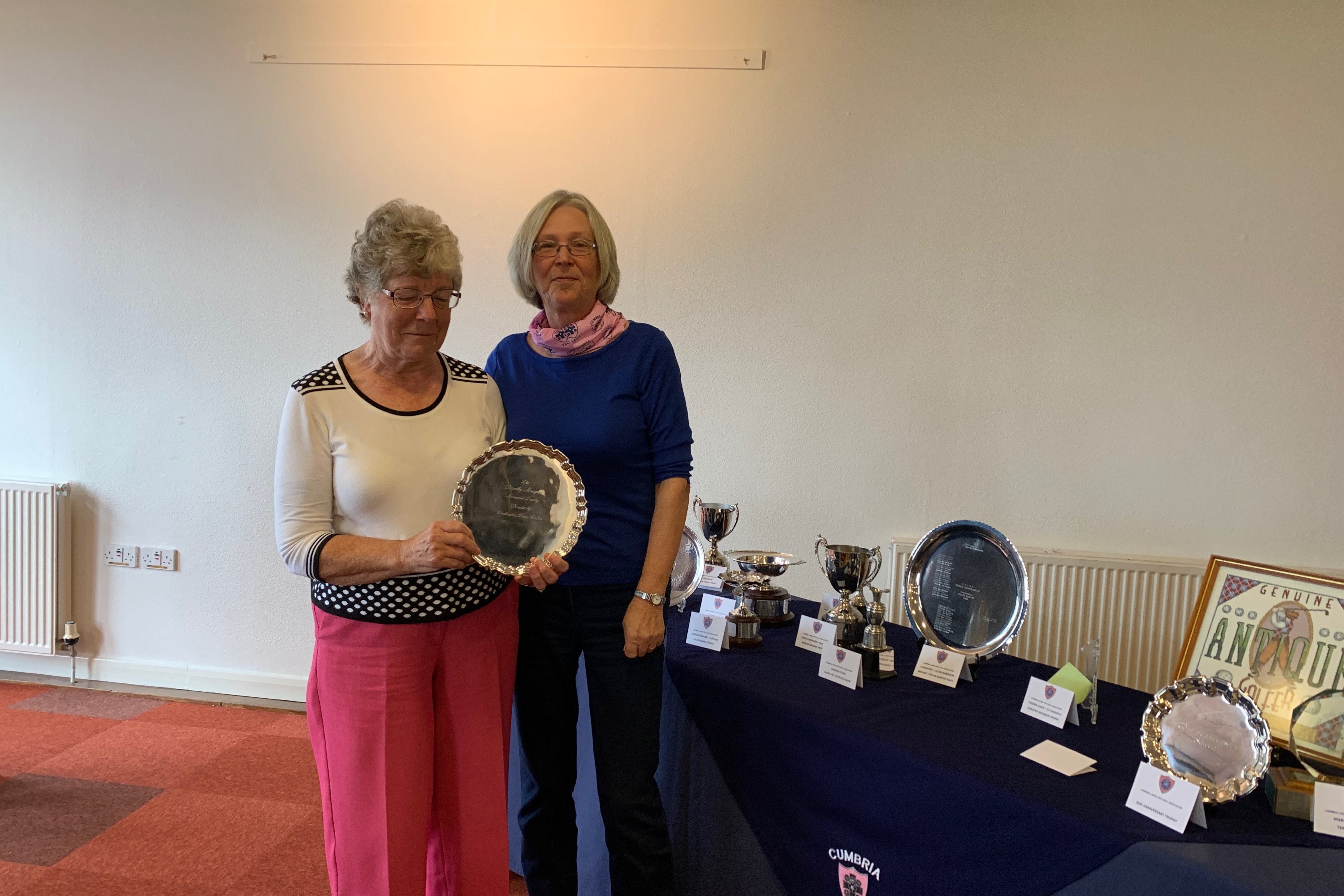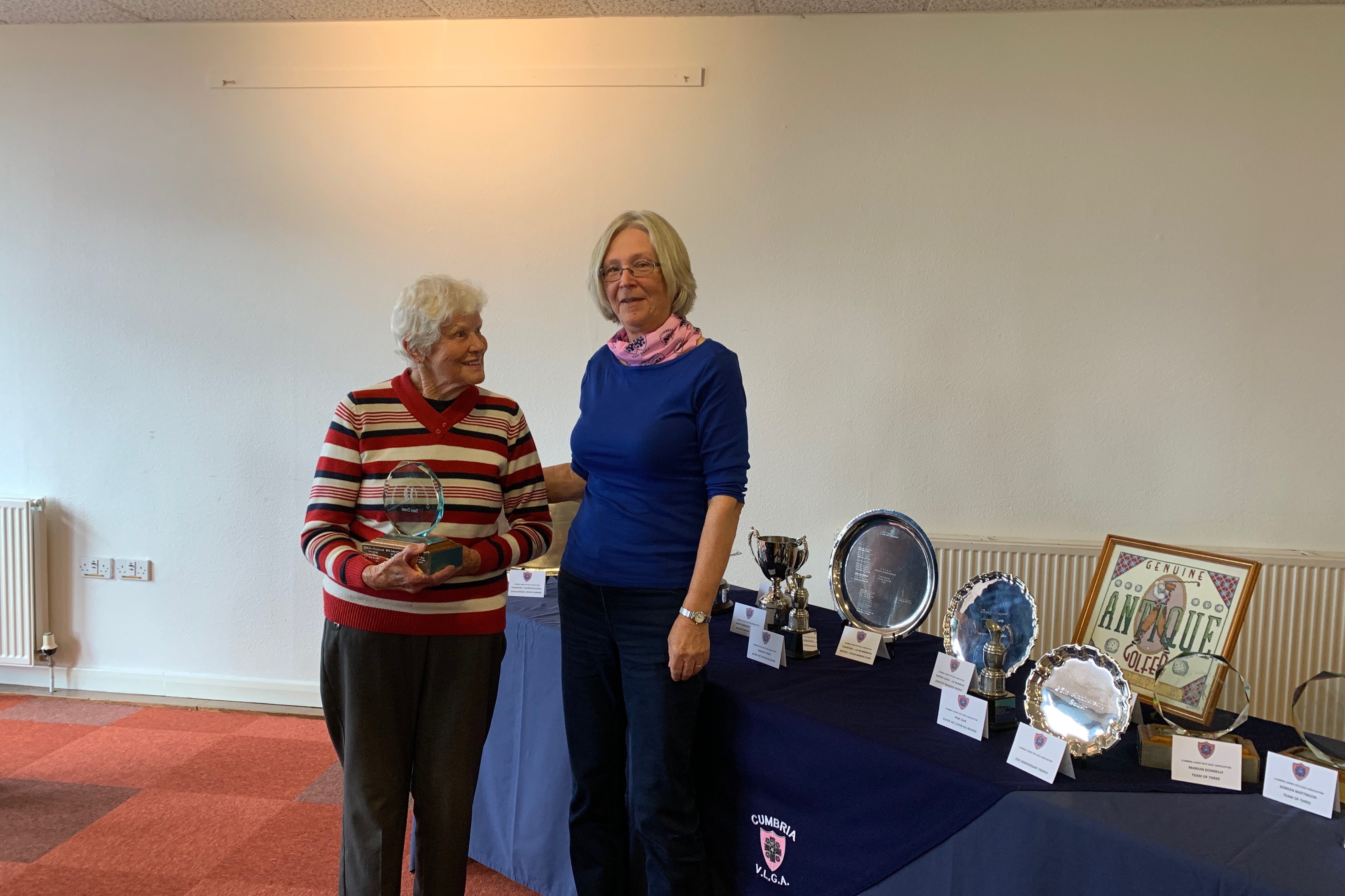 Rosie Waller receiving the Richardson Trophy plate for best performance
Sheena Leack from Kendal receiving the Dorothy Meagan trophy
Doreen Mattinson from Keswick recieving the Team of three event trophies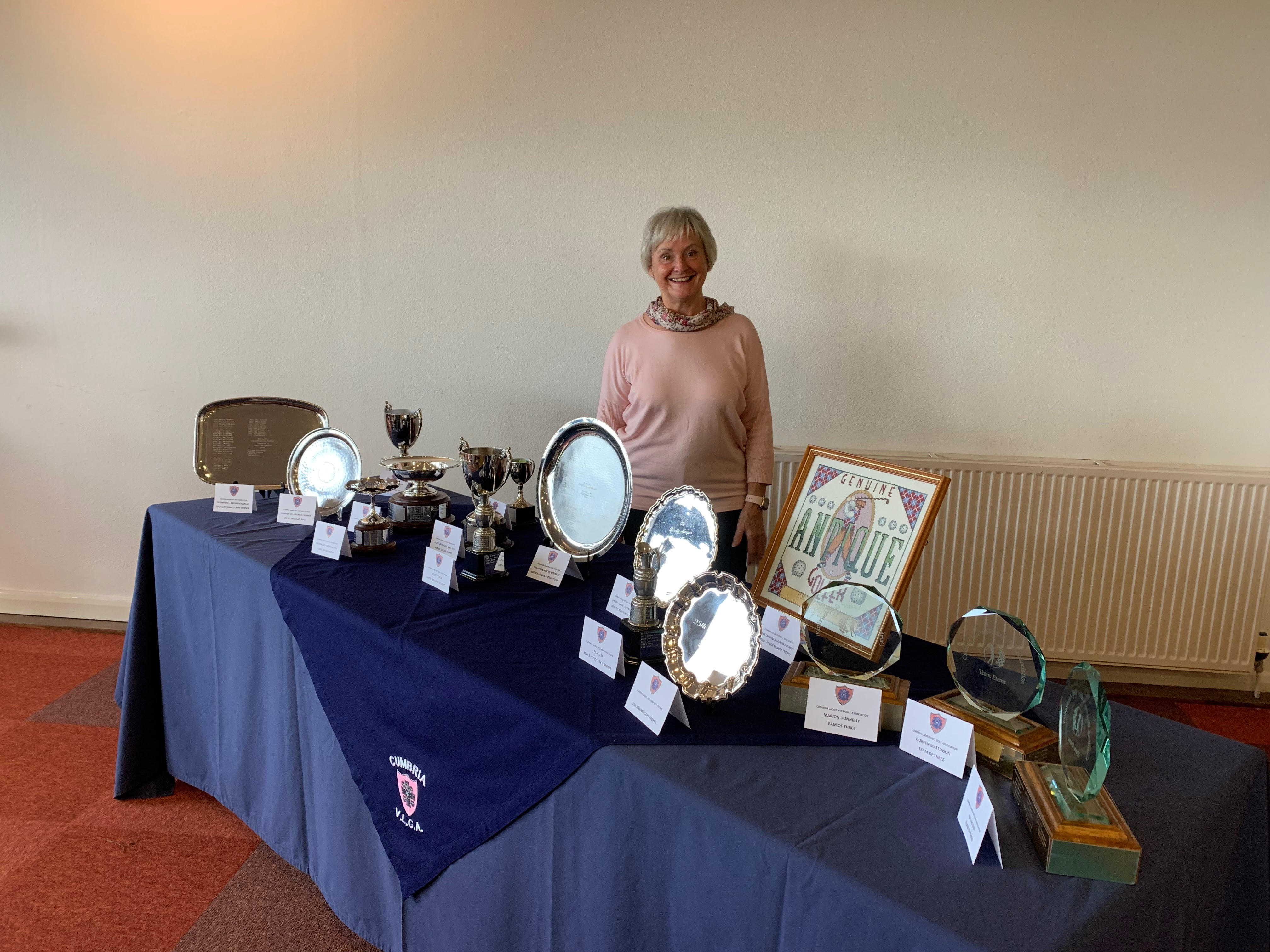 Competition Secretary Ruth Colbey with the trophy table
JAMBOREE at GLENBERVIE 2nd – 5th August 2021
This year the Jamboree between Vets from Scotland, the North, the South and the Midlands was held in Scotland at Glenbervie Golf Club. A lovely wide parkland course with very challenging holes especially the 17th and 18th . Teams of 8 compete playing each other on different days with 3 foursomes on the morning and 6 singles in the afternoon.
We were thrilled that Brenda Ewbank was picked for the North team. The first day the North played Scotland and won 2 foursomes with Brenda winning one. In the afternoon the North won 4 singles giving them a win of 6 to 3. Brenda played in the afternoon and I trolley pulled for her. She played so well and just lost on the 18th. Day 2 the North played the Midlands. The Midlands won all the morning foursomes. Then in the afternoon real nail biting stuff as the North won 5 of the singles to take victory 5 to 4. Going into the last day to take overall victory the North had to beat the South. Sadly I had to miss the last day, which went right to the last putt on the 18th to make a half for the match 4 ½ to 4 ½ . This meant that the South were the winners and the North were only half a point behind.
It was the most amazing experience the standard of golf was incredible holes were won with birdies, pars were not enough and played in such friendly spirit. The support from the North outweighed any other team. I was so pleased to be there, Helena joined us as well and Jackie Lambert lady captain of Appleby. All the girls played so well and to be beaten by birdies is just what happens on the day. Well done Brenda a great experience! Lady Captain Margaret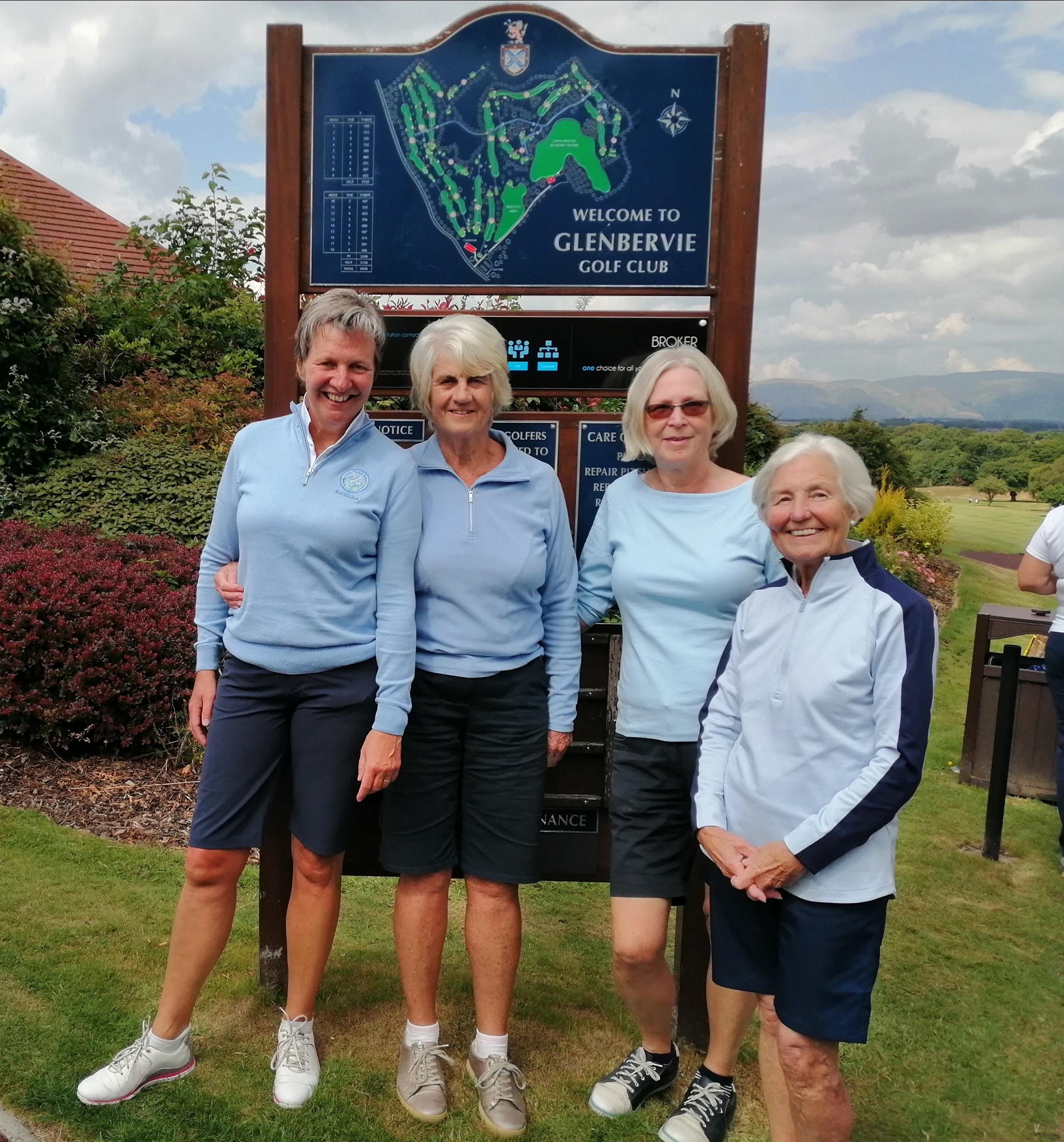 Brenda Ewbank, Captain Margaret Engish, President Helena Earl & Appleby Lady Captain
VETS V COUNTY SQUAD 2021
On Sunday 6th June 8 Vets came to a very sunny Windermere to play against the County Squad. 9 holes were played as foursomes and 9 holes as matchplay. The course was in beautiful condition and the standard of golf was outstanding. Sadly we were beaten 17 to 7 which is just how it goes on the day. Thank you to everyone who came along and enjoyed themselves. Congratulations to the County and good luck to them for Match week later in the month.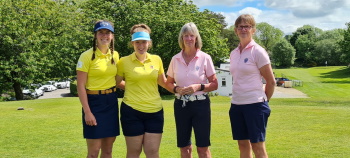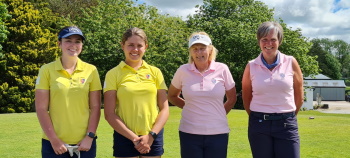 1. Naomi Brennan, Rebecca Davidson, Alyson Wood and Janette McWhirter
2. Katie Sibley,Abby Roper, Rosie Waller and Brenda Ewbank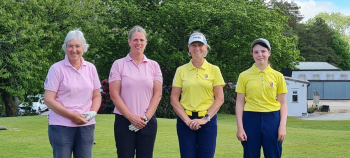 1.Kathryn Bulman, Sue Cotter, Nicola Wood and, Hannah Smith,
2.. Trudy Hubbard, Shiela Raine Fliss Holloway and Rebecca Wildey,
NORTHERN
All Northern results are on the northern website (Links left hand side column go to bottom of page Northern website clic for access)
Northern Championship Bishop Auckland May 2021
Helena and I travelled over to Bishop Auckland Golf Club on Monday 17th May to see our Cumbrian faces practicing for the Northern Championship and joined them for a few holes. The round was played in the dry and everyone was finished by the time the heavens opened.
Tuesday 18th May was the qualifying day and out of a field of 90, 15 were from Cumbria. What a day it turned out to be for our girls. The weather stayed dry and Niki Tebbutt had a wonderful nett 72 to win the best Nett Trophy. Trudy Hubbard had a super nett 74 to win the Super Vets prize. Cumbria won the Nett Team Prize for the first time ever with a score of 221 made up of Niki Tebbutt 72, Trudy Hubbard 74 and Maureen Woodhead 75.
Further more 5 Cumbrians qualified in the top 16 gross scores to go into the matchplay on Wednesday 19th May and Thursday 20th May. Fantastic achievement! The weather stayed mostly dry but continued to be cold. Rosie Waller lost to the eventual Championship winner Cath Rawthore. Trudy Hubbard lost at the 21st hole to the Yorkshire Champion Betty Sworowski. Janette McWhirter narrowly lost to Sara Spencer an ex professional golfer. Niki Tebbutt beat Helen Cooper and then lost to Sara Spencer in the quarter final. Brenda Ewbank beat Carol Simpson and then lost at the 20th hole in the quarter final to the losing finalist Karen Jobling.
A really impressive performance by everyone. We saw some amazing golf all played in the true spirit of the game. It was a joy to watch and to feel so very proud of all our girls. Thank you all so much. Cumbria Lady Captain Margaret
2021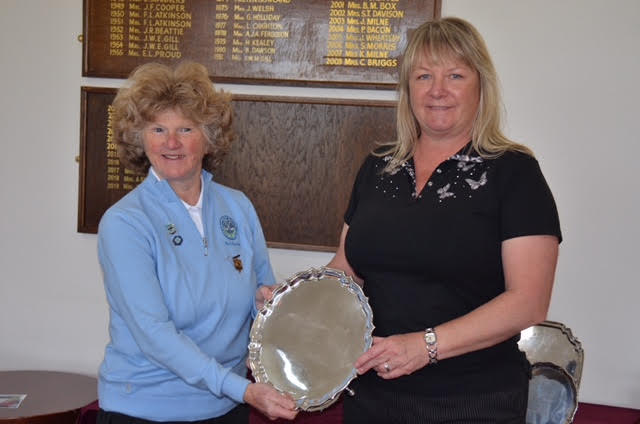 2021 Northern Championships Best Net prize Nichola Tebbit from Carlisle

AGM information
Following a committee meeting and note communicated to all clubs in Cumbria the CCLVGA have cancelled the 2020 AGM
All officials and committee members will remain in post for 2021 with the exception of our Lady president, Ann has handed over to Mrs Helena Earl who was voted in by the committee and accepted by all Cumbria clubs following the CCLVGA communication. We wish Ann the very best in Canada and thank her for all the contributions she has made over the years to the Cumbria Vets she will be greatly missed. We also welcome Helena as our new President and wish her well over the next two years she will prove to be an invaluable asset.

GREAT DAY AT SEASCALE
A special thanks to Lady Captain Judy and Seascale Golf Club for allowing the County Senior Ladies a practice round ahead of their up-coming Championships.
We were blessed with warm Seascale sunshine and a gentle breeze! The course was playing as a true links and a good test of golf.
A big thanks to Helena our Lady President for supplying us with water and bananas on the 1st tee.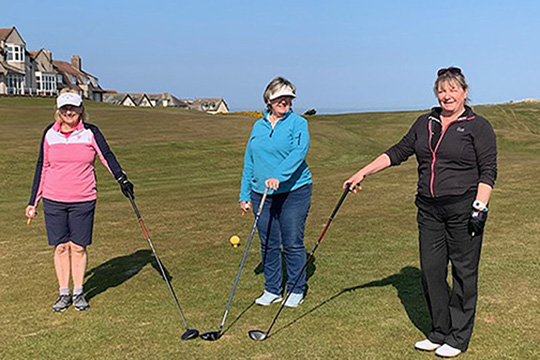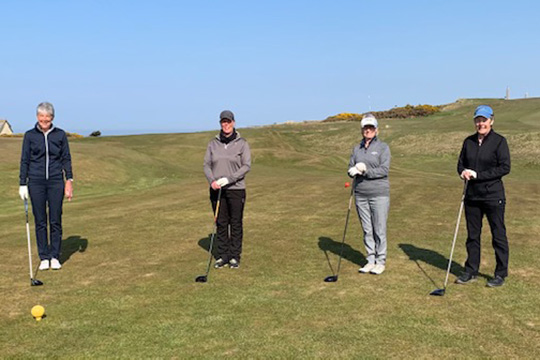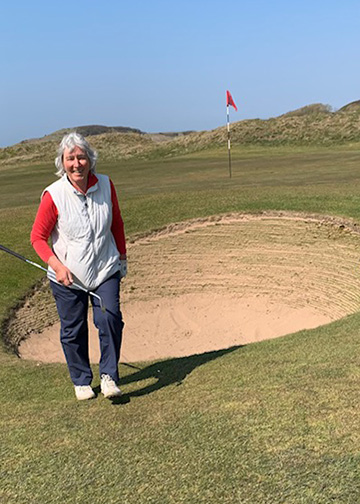 The CCLVGA President Ann Newberry receiving a leaving gift from the Vets committee and presenting Mrs Helena Earl with her presidents badge.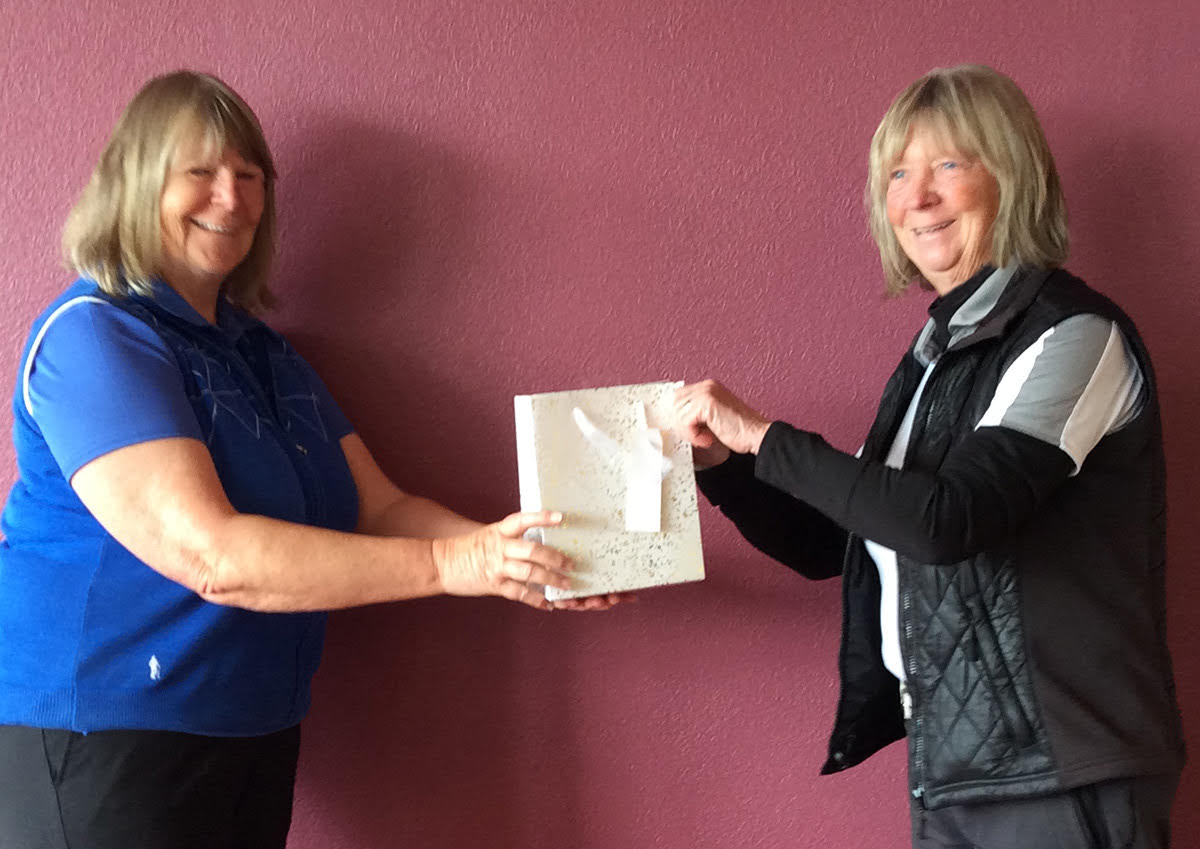 Ann has been our president for the last two years and unfortunately for us is unable to stay on the committee for an extra year as she is emigrating to Canada to be closer to her only daughter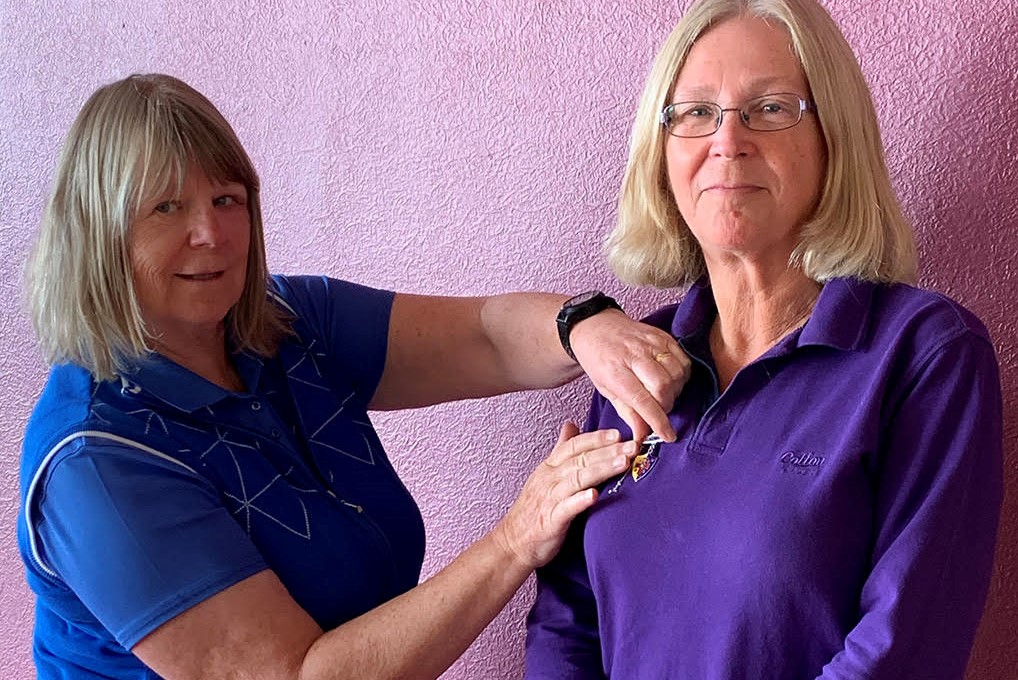 Ann will be greatly missed an excellent ambassador for Cumbria senior Ladies golf over the years. She has been Captain, President and number one supporter at all match weeks and Northern Championships, not to mention her support at Richardson trophy matches, bronze matches and all our open competitions.
We wish her a very happy future in her new adventure, she will be a big miss in the Cumbria Vets

Captains squad training report September 2020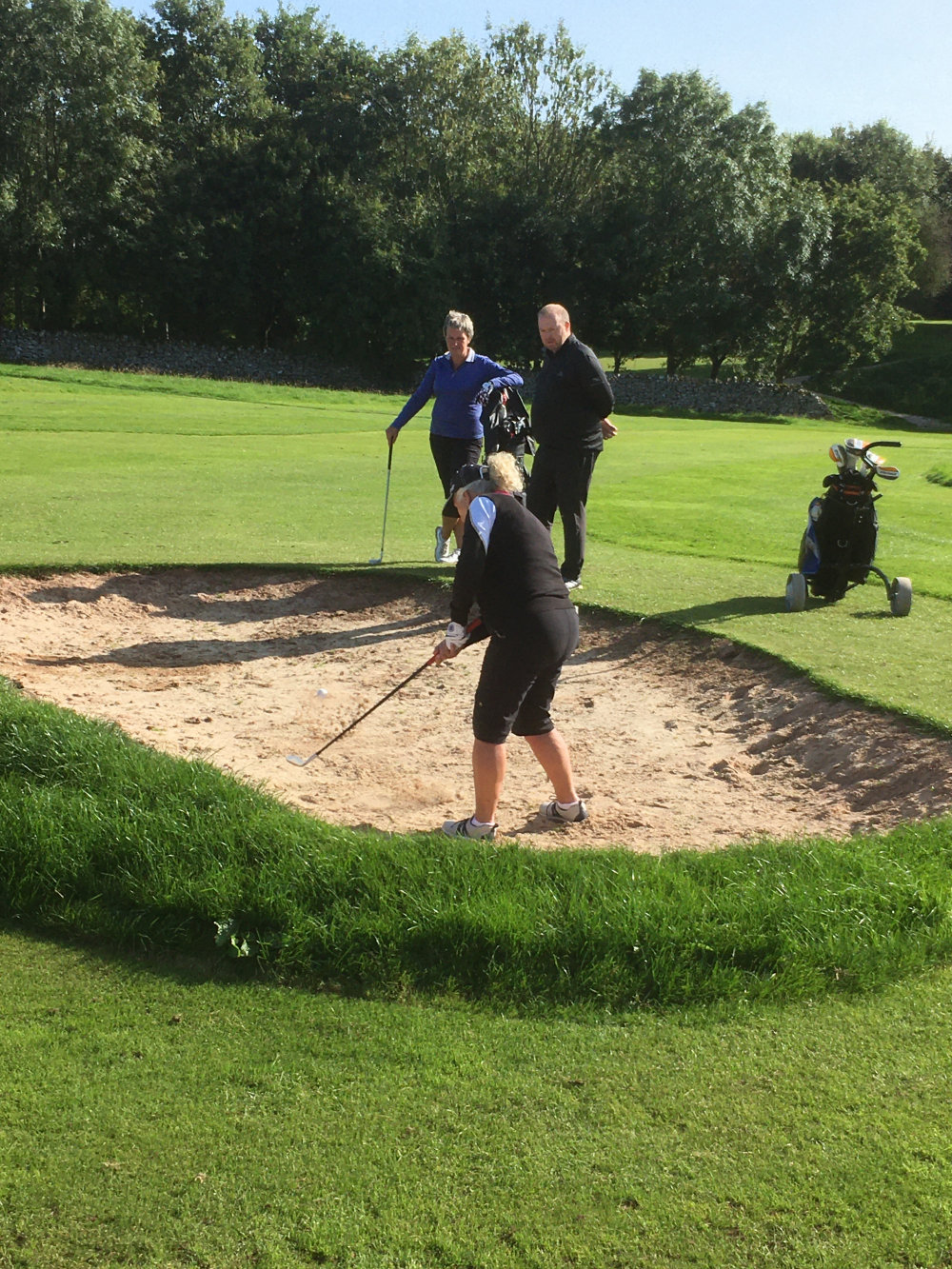 On Saturday 19th September 10 Vets met for a training session at the New Penrith Hub. Lee and Andy were on hand taking everyone through the very sophisticated putting studio giving tips and useful information. The short game coaching was outside in the amazing warm sunshine while the long game was on the new Track technology and everyone had their video and tips sent to their email addresses. Finally golf was played on the short course. Everyone had a great day and I hope managed to take it all in while enjoying the weather and a chance for a chat with friends some not seen since 2019. So much has happened since everyone was last together and how much has changed in all our lives. For me it was a chance to see Ann Newberry in person before she moves to her beautiful new home in Canada. We shall me miss her as she is always there with a smile on her face. Good luck Ann. Helena Earl takes up her mantle of president as I am sure you all know.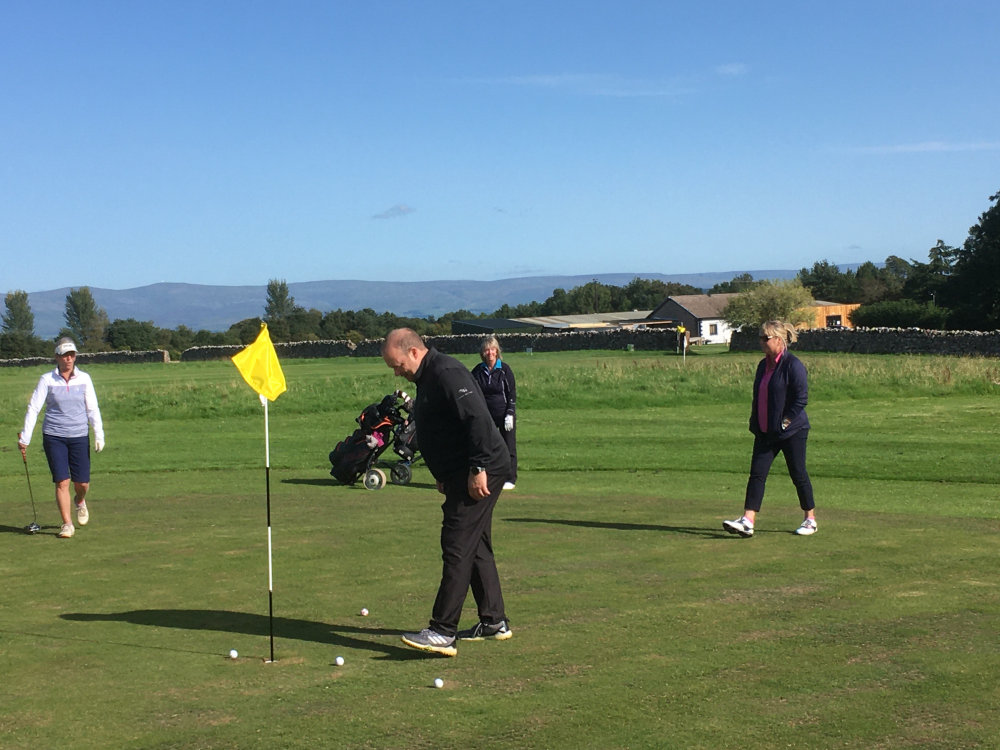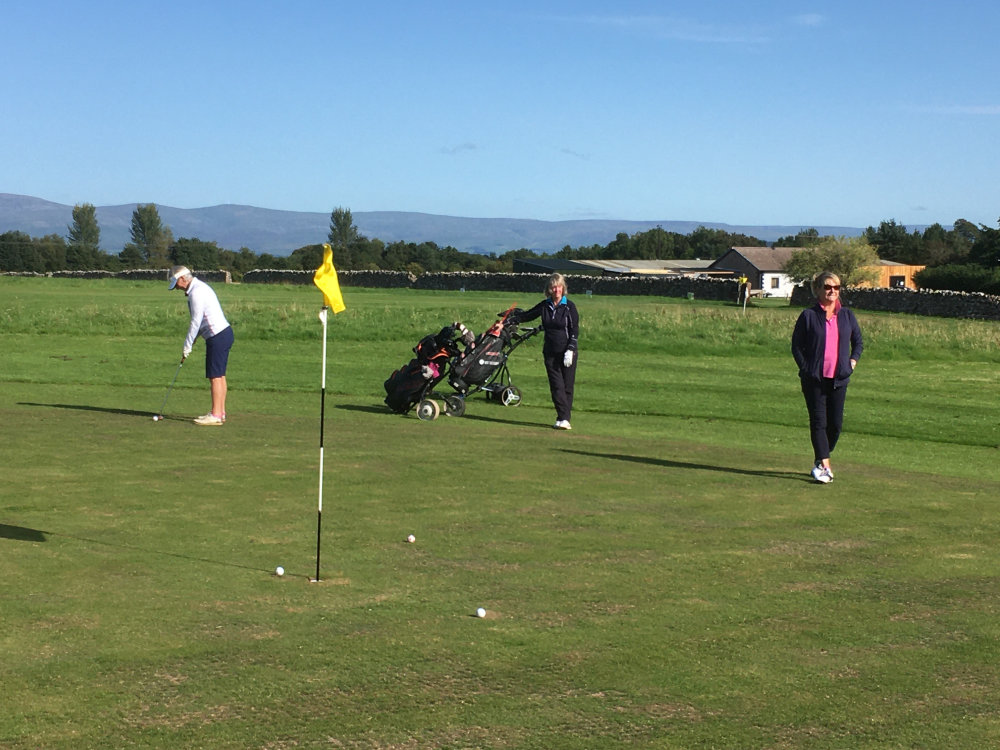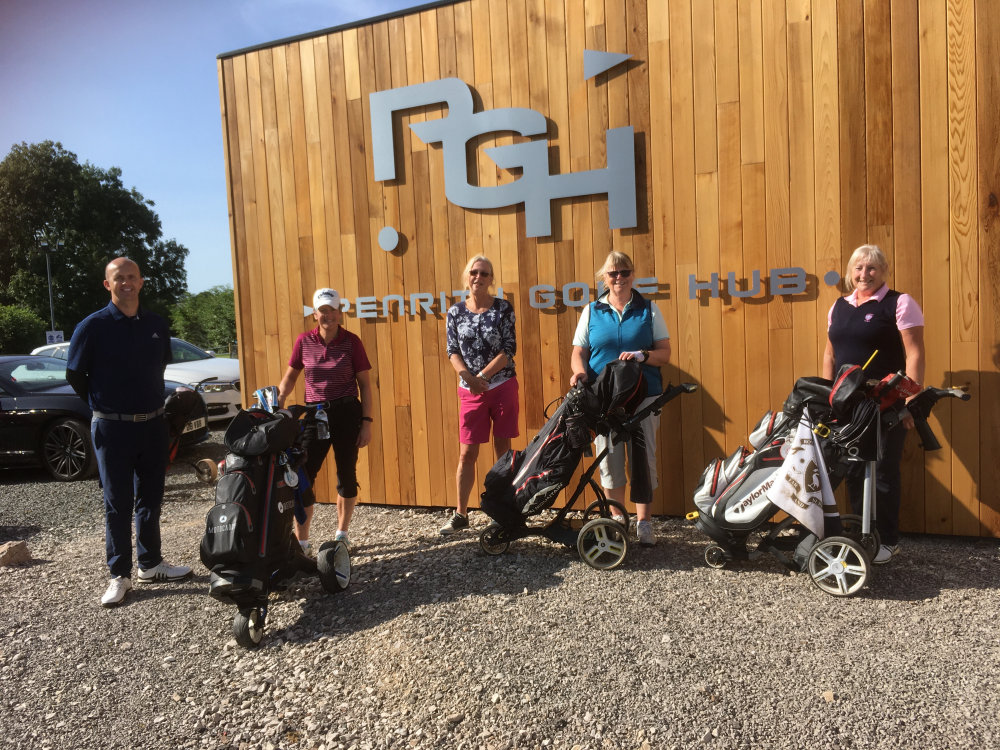 Lovely day and look forward to seeing you all soon. Lady Captain Margaret